Flat roofs are coming back into style and are becoming more and more popular.
When you are looking into roofing options for your Ft. Myers, Florida home or business, it can be hard to make the right decision. What you need is a trusted and experienced roofing company to help you become informed about all of your options. When you know what is available to you, you can make the best decision on what roofing choice will work for you. One thing we think people should consider more often is flat roof construction. Flat roofs are coming back into style and are becoming more and more popular. Many people do not even know a flat roof is an option for them, which is why we like to put out the idea of a flat roof as an option for your home or business.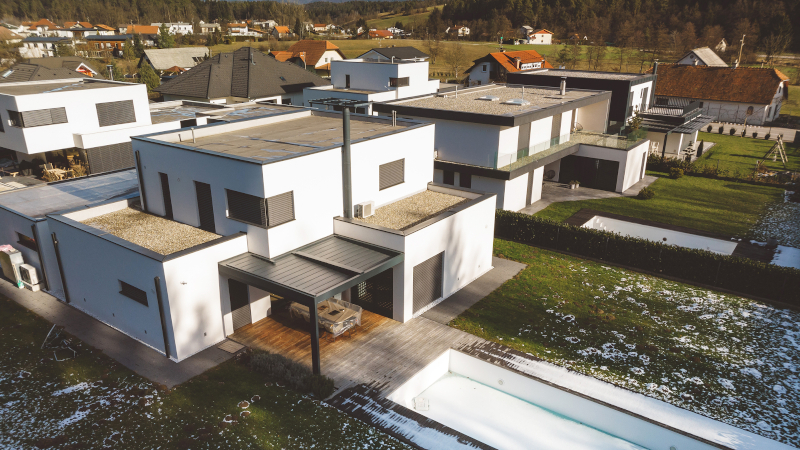 While a flat roof might not appeal to everyone, we think you should definitely give the idea of flat roof construction a chance. There are many benefits that come with choosing a flat roof. One of the benefits is aesthetics. Flat roofs look smooth, simple, and streamlined. A flat roof can also give you more usable space in your home or business. You will not have to worry about an attic or high vaulted ceilings taking up a lot of space. However, one of the biggest benefits of a flat roof is the cost. A flat roof is much less expensive because you are not paying for nearly as much roofing materials. Flat roofs are simple and do not require all of the extra beams and structural supports that sloped roofs need. The flat roof is basic and much cheaper to build. A flat roof not only looks great, but the price is definitely right.
If you are interested in learning more about flat roof construction, contact us today at Aztec Roofs. We can answer all of your questions and help you decide if a flat roof is right for your home or business. We will go over cost, materials, and the entire roofing process with you so you know exactly what to expect. We do excellent work and will work hard to build you a quality roof that will last.
---
At Aztec Roofs, we offer flat roof construction for customers in Cape Coral, Ft. Myers, Lehigh Acres, Pine Island, Port Charlotte, St. James City, Punta Gorda, and Lee County, Florida.