Choose the Affordable Roofing Option
Schedule shingle roof installation in Lehigh Acres, FL
Fiber glass shingles are oldies but goodies. They're affordable, stylish and extremely durable. That's why homeowners in Lehigh Acres, FL and the surrounding area are still choosing this material to cover their home.
Aztec Roofs Inc. offers shingle roof installation for residential properties in the area. We offer a 50-year warranty on all Timberline Lifetime shingles. If you prefer architectural shingles from Owens Corning, you can receive those upon request.
Schedule your service with a skilled roofing contractor today. We offer free in-person and phone estimates.
Fixing a metal roof
We're raising the standard on residential roofing services
When you hire us as your roofing contractor, we will handle all shingle roof installations:
All our crews are professional trained
We pay close attention to detail
There's no pressure to buy additional services
If you need help planning your installation service, don't hesitate to call our experts for your free estimate.
Call now to schedule your service in Lehigh Acres, FL.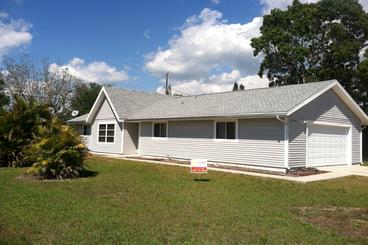 The Installation Process
1. Tearing the old roof down to the sheathing.
2. Re-nail with 2 3/8″ ring shank nails 6″ O.C.
3. Cover with peel and stick underlayment for secondary water barrier.
4. Stair step GAF timberline lifetime shingles 6 nails / shingle for 130 mph wind rating.
5. Slot cut for shingle over ridge vent.
6. Installing ridge vent
We use GAF timberline shingles when installed correctly they have 130 mph wind rating. Owens Corning Duration also available on request.Ask about GAF's 50 year non-prorated warranty on timberline shingles. We use quality at every step of the way. Click here for tile roofing.
7. The finished roof.
---
At Aztec Roofs, we offer shingle roofing services for customers in Cape Coral, Ft. Myers, Lehigh Acres, Pine Island, Port Charlotte, St. James City, Punta Gorda, and Lee County, Florida.
Similar Services We Offer: