Our Mission
Aztec Roofs Inc. is committed to providing our customers with the best products and quality of workmanship on every job. Your roof is one of the most important investments you can make for your home. We do the job right the first time.

Our Team
We're committed to providing you with a quality job. Our team is highly skilled and has years of experience. Most of all: Jerry the owner has years of hands on experience that I have passed on to my help to keep our quality of workmanship at a high level. Let us give you our price guarantee. The price we give after our thorough inspection of your roof will be the final price. No hidden costs or job over runs added on at the completion of the job. Know in advance what the job will cost you.
Long Term Business
We're committed to providing you with the highest level of service, so you'll refer us on to friends and family for their roofing needs.We know that selecting the right roofing contractor can be a stressful ordeal. AZTEC ROOFS will make getting a new roof a pleasant experience from start to finish.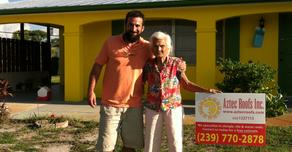 You will find our approach quite refreshing with professionalism at every step of the way. With over 30 years of experience in the roofing business we can help with selecting the right roofing system for your home. We will provide you with several options to choose from after a thorough inspection of your roof. Our workmanship and installations will meet or exceed all local building codes. We're committed to serving you with quality and value. Our first-time customers continually become our long term customers time and time again, choosing us for all their roofing needs. Call us today, and see what our commitment to quality is all about! We may not be related, but you'll feel like we're family.
Why Choose Us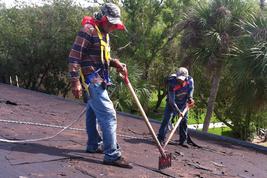 We Love What We Do We take pride in every job we do. Like taking the time to strike lines to keep our work nice and straight. We pay attention to the details
Leave it to Us
Doing it yourself doesn't always pan out. Rely on our knowledge and experience instead. Your roof will be in the best of hands.
Our Promise to You
We promise to always provide value and outstanding service, regardless of the size of the job.