We can help protect your home or business from damage with metal roof repair.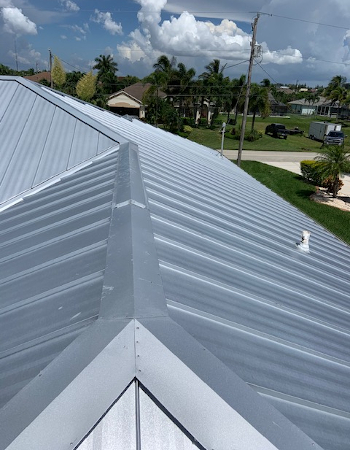 If you have a metal roof on your home or business, you know how wonderful these roofs are. They are fire and rot resistant and block UV rays. Plus, they look amazing! A metal roof is a great choice for a home or business in Cape Coral, Florida. A metal roof can withstand high winds and rain and usually does not come out worse for the wear. However, if you notice a problem with your metal roof, you should call us as soon as possible to come out for metal roof repair. Metal roofs are very durable, but not indestructible, which is why you need to have your roof repaired if there is any damage or rust found on the roof. This is the best thing to do to avoid major problems and keep your roof in good condition and looking wonderful.
Metal can rust over time, which is why it is important to have your roof checked regularly for rust. If any rust is found, we can do metal roof repair quickly to get rid of the rust and make sure it does not spread. If the rust spreads, it can cause a big problem and you may need to replace the entire roof if it gets too bad. This is why rust should be dealt with as soon as you notice it to prevent any further damage. If you notice any other problems with your roof, like water leaking on the inside of your home or business, we can take care of that problem for you as well. We can handle all repairs on metal roofs and help them stay in good condition.
If you need help with metal roof repair on your home or business, call us today at Aztec Roofs. We can help make sure that your roof is repaired right away to help you avoid further damage. We do quality work and have great customer service. You can count on us to do a great job and keep your roof in great shape.
---
At Aztec Roofs, we offer metal roof repair for customers in Cape Coral, Ft. Myers, Lehigh Acres, Pine Island, Port Charlotte, St. James City, Punta Gorda, and Lee County, Florida.