We offer flat roof replacement and excellent customer service.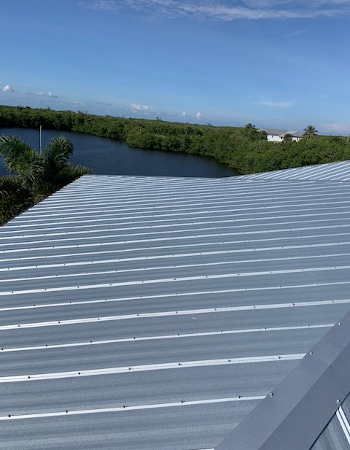 The weather can really take its toll on a roof. High winds, rain, and the hot, baking sun can cause damage to your roof over time. Your roof also may be damaged by falling tree branches in a storm. Flat roofs can be especially susceptible to damage because sometimes water or debris can pool on the roof, which can result in a lot of damage. If you have a flat roof, you need to look at it often to make sure it is in good condition. If your roof is quite old, it also might need to be looked at to see if it needs to be replaced. If you notice that your roof has significant damage or if it is very old, you should call us for flat roof replacement.
We have been doing flat roof replacement in the Ft. Myers, Florida area for over 14 years. We will come out to your property and inspect the roof to see if it needs to be replaced. We will even give you a free estimate so you can know what to expect cost-wise. We offer great pricing and can often beat our competition. We strive to provide you with the best customer service, and we always want to make sure you have a great experience working with us. We have an A+ rating with the Better Business Bureau as well as many positive reviews from satisfied customers, so you can feel confident working with us. We can provide you with a quality product and excellent customer service.
Call us today at Aztec Roofs if you need help with flat roof replacement. We will give an honest opinion on whether or not your roof actually needs to be replaced. We will not try to do unnecessary replacements just to make more money on the job. We are honest and trustworthy. We will do the work that you require and charge a fair price. You can count on us to get the job done and get it done right.
---
At Aztec Roofs, we offer flat roof replacement for customers in Cape Coral, Ft. Myers, Lehigh Acres, Pine Island, Port Charlotte, St. James City, Punta Gorda, and Lee County, Florida.