Though most roofing options have substantial longevity, they do eventually require maintenance or replacement. All options have their own pros and cons, and sometimes one option makes more sense than the others due to the nature of the project or the style of the residence.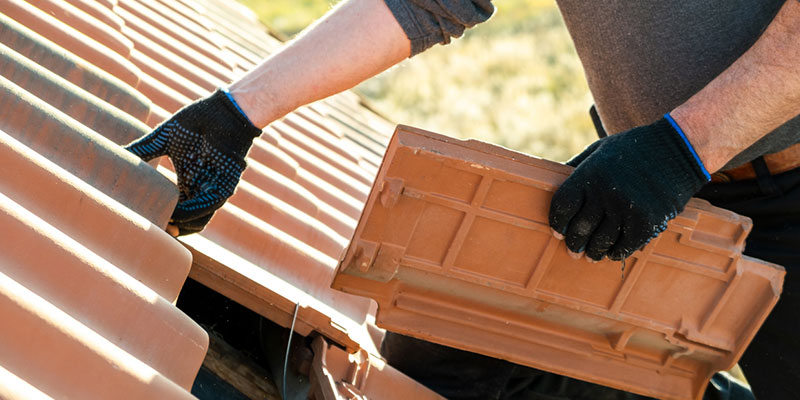 Tile roofing is an excellent option for many and offers a host of benefits that may prompt a homeowner to choose it. Some benefits of tile roofing include:
Aesthetics– Tile roofing is available in a wide variety of colors, shapes, and styles that can mimic other materials and add a truly unique flair to the residence.
Versatility– In addition to visual variety, tiles are available in a variety of materials that can be selected to suit the project and may be molded to fit eccentric spaces.
Strength– Tiles are resistant to a host of threats, like fire, hail, frost, rain, and insects.
Durability– Tile roofs can survive a hundred years or more, potentially outlasting occupants.
Sustainability– Natural raw materials and no need for chemical preservatives render tiles better for the environment, and their longevity translates to less waste in landfills.
Efficiency– The thermal properties of tile keep homes cooler in the summer and warmer in winter.
Reduced noise– Tiles keep out the sounds of busy streets and bad weather.
Ease of installation– Being easy to install and repair makes tile an option that not only saves labor costs, but is also cheaper in the long run due to the material's longevity and durability.
Value– Tile increases the value of the home while having a lower initial cost than some other options, and individual tiles can be replaced, reducing repair costs.
At Aztec Roofs, we offer professional tile roofing in the Cape Coral, Florida area. Our team has been providing exceptional service and superior workmanship to the area for over 14 years, making us a preferred choice of many homeowners. Our tile roofing options are a great way to personalize and beautify your home to suit your exact style and design preferences while providing excellent protection for your home.
If you would like to receive a free consultation via phone or on site, reach out to us. We pay close attention to detail and make sure to use proper underlayments and tile seal to prevent premature deterioration of your roofing material. Give us a call today to discuss options and schedule with our team of professionally trained roofers!